New- Read an article by David P. Allen
Contributing Editor, emeritus, Videography Magazine about how Shep came to New York.
---
Hi gang. My name is Bob Kaye , and this is what I hope will be an ever growing web site. For those who are unaware of who Jean Shepherd was, a little background, first. What I mean, is a little background on my personal Shepherd experiences.
As a feckless youth growing up in Long Beach, NY, I discovered Shepherd late one night on WOR radio. My father, a musician (like myself), told me about "this crazy guy on the radio that tells people to put their radios by an open window at 2 AM and then plays an incredibly loud record of a train, whistles and all, for five minutes!"
Well, what I heard was a bit different. This guy with a curious mixture of Indianan twang and New York tough guy in his voice, was talking about being in a troop train in the army. He was way in the back, in a car that was quite dark. I don't remember the details, but toward the end of the story, it turned out that he was in a car of coffins of returning soldiers.
Needless to say, this wasn't of the Dobie Gillis or I Love Lucy genre that I was used to.
In the next few nights I heard him weave stories of the foibles of growing up as a kid in Indiana, in a steel mill town. These were stories told by a Master Story Teller.
The cast was usually the same. The Old Man, sitting on the couch in a tee shirt, drinking a beer and trying to solve a Chinese Nail Puzzle. His Mother, bent over the sink, in her rump-sprung Chinese red chenille robe. (With the petrified egg on the lapel.)Younger brother Randy, eternally whining under the day bed. Flick, Schwartz, and Brunner, the other kids on the block.
These, however just weren't nostalgic kid stories. They had a bite, along with the fantastic humor. They usually involved some horrible lesson about life, being revealed at an early age.
Like the time Shep and the gang spent crashing ethnic and company picnics, one summer, at the local forest preserve. They'd show up on their bikes to the Greek-American picnic one week, and the US Steel picnic the next, scoffing all the hot-dogs and yoo-hoos they could get their hands on!
As Shep would say, when you got a bunch of guys from the steel mill drinking beers and playing softball, watch out! Especially after a close call at second base! Now, there's some action! Well, one day they saw a sign to a nighttime picnic. As they arrived, Shep said, "There was a strange glowing light coming from the forest. There were big ones and little ones, and they all were dressed the same." He crashed the Ku Klux Klan's annual picnic!
Of course Shepherd stretched this story over 45 extremely captivating minutes. (Including music by Stockhausen!)And the stories, and philosophies, and the Jew's harp and nose-flute playing went on and on for twenty years or so, night after night. (Unfortunately, not as we thought, forever.)
Jean Shepherd was perhaps one of the unique radio performers of all time. His other endeavors I'll talk about in a bit.
When Shepherd came to New York in the early 50's he had a totally different concept of what he wanted to do on radio. Basically, he wanted to do what other close friends of his (Jack Kerouac, Herb Gardner, Jules Feiffer) were doing, but in a different medium. To Shep, the airwaves were his blank page, to fill with his satiric and usually right-to-the-point observations about Mankind. This, of course, got him in a lot of trouble during that Eisenhower period of American history, including getting fired off the air in the middle of an all-night broadcast!
It seems that he was trying to find out how many listeners he had by telling everyone to buy a cake of Sweetheart soap. The station manager, driving home, was listening. Realizing, that Sweetheart Soap wasn't a sponsor, he pulled over, called the station, and told them to play music. After hundreds of people rallied, trying to get Shepherd back, he did return, but no longer for all night. (5 hours!) And then there was the infamous "I, Libertine" story.
Click Here to read the fascinating ILLUSTRATED account of this story, considered to be one of the greatest literary hoaxes of the 20th century! Don't miss this one!
Shep had also appeared in at least 4 live concerts at Carnegie Hall. He performed at The Village Vanguard, The Limelight and many Universities, including about 30 annual Princeton shows, However, we few lucky East Coasters, huddled under the covers at night, next to the clock radio, heard Shep tell these stories to US. Yep. One of Shep's greatest talents was the ability to tell a story, whether in concert, in print, in film or on radio and make it sound like he's talking to just you. , off the top of his head. Actually, although not using a script, he did think about and work out the stories very carefully. It was quite a shock, to find out that they were as much fiction and biography as any other great author's works.
Although Shep became successfully involved with theater, books, movies, and TV, I believe that his true singularity was realized on radio.
I can remember coming home from a gig, driving on the Long Island Expressway, laughing out loud, and having to sit in the driveway for 10 minutes, waiting for the end of a Shepherd tale.
I also did great in English class, due to copping Shep's ideas and observations.
By the way, one of the rarest Shepherd books is "The America of George Ade" edited and introduced by Jean Shepherd.
Printed in hard cover by G.P. Putnam's Sons, 1961. Ade was an early 20th century humorist from the Midwest whose sardonic look at American life had a great influence on the humor of Shep. Check him out to see some of Shep's literary roots. And don't forget Robert Service. Another writer introduced to me by JS.
Anyway, this is a start. I have several hundred radio shows on tape, and I'm always interested in trading for more. If anyone is interested, please E-mail me. If you have nothing to trade, but wish to purchase tapes (radio or tv shows), visit my friend Max Schmid's catalog of Jean Shepherd.
If anyone has more info or stories to relate, please do!
SHEP LIVES!!
Excelsior, you fathead!


Keep your knees loose, gang. (More Below!! Including letters about Shep that I've received.)
---
Hear Shep Again!!
GO HERE TO LISTEN OR DOWNLOAD HUNDREDS OF RADIO SHOWS FOR FREE!! http://shepcast.blogspot.com/
---
Check back once and a while for new clips.
---
The real story about "The Bear Missed The Train"
Wanna see the actual house that Shep grew up in? The real FLICK's TAVERN? HERE!
---
Today, most people are aware of Jean Shepherd from the very successful movie, adapted from his stories, "A Christmas Story".
These stories initially appeared in Playboy, and won Shepherd many awards for best humor stories of the year. They then were published in several novels.
These are:
In God We Trust, All Others Pay Cash
Wanda Hickey's Night of Golden Memories And Other Disasters
The Phantom Of The Open Hearth
A Fistful of Fig Newtons
A Ferarri In The Bedroom.

CHECK OUT AMAZON.COM TO ORDER HIS BOOKS
---
FROM THE NOVEMBER 28, 1998 TV GUIDE: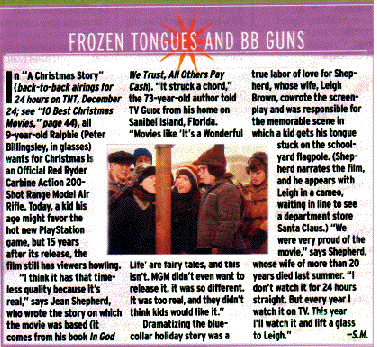 Some Shepherd records:
Jean Shepherd And Other Foibles, Electra 172 (1959)
Will Failure Spoil Jean Shepherd, Electra 195 (1960)
The Declassified Jean Shepherd, Mercury SRM 1615 ( )
Jean Shepherd "Live" At The Limelight, Quote Q-4 (1964)
Jean Shepherd Reads Poems Of Robert Service, Folkways FL 9754 (1975)
Shep also recorded a memorable record with jazz legend Charlie Mingus, called "THE CLOWN". It has recently been re-issued as part of a Mingus anthology.



---

---
I was interviewed by Sean Callahan of the Chicago Daily Southtown newspaper. He did a featured article on "A Christmas Story". CLICK to read it.
---
Here's a New York Times review from 1982 on "A Fistful of Fig Newtons".
CLICK HERE to read it.
---
CLICK FOR A JEAN SHEPHERD PHOTO GALLERY!!
---
More Shepherd links below!

Read the story of the Great "I, Libertine" hoax! (Illustrated!)

---
(graciously shared by Bruce Clark)
---

If you want to know a little about me, well, I'm a jazz pianist and arranger-accompanist-conductor, and well, if you want to hear me with my trio click here.
Go to the Bob Kaye Page
bobkaye@bobkaye.com

---


Also, check out my Father's web site (The Lenny Kaye Page.) He was a sax and clarinet player formerly with Benny Goodman and Tommy Dorsey...some great pix and a sound clips of The Kaye Brothers Orchestra of 1946, and him and me playing together.